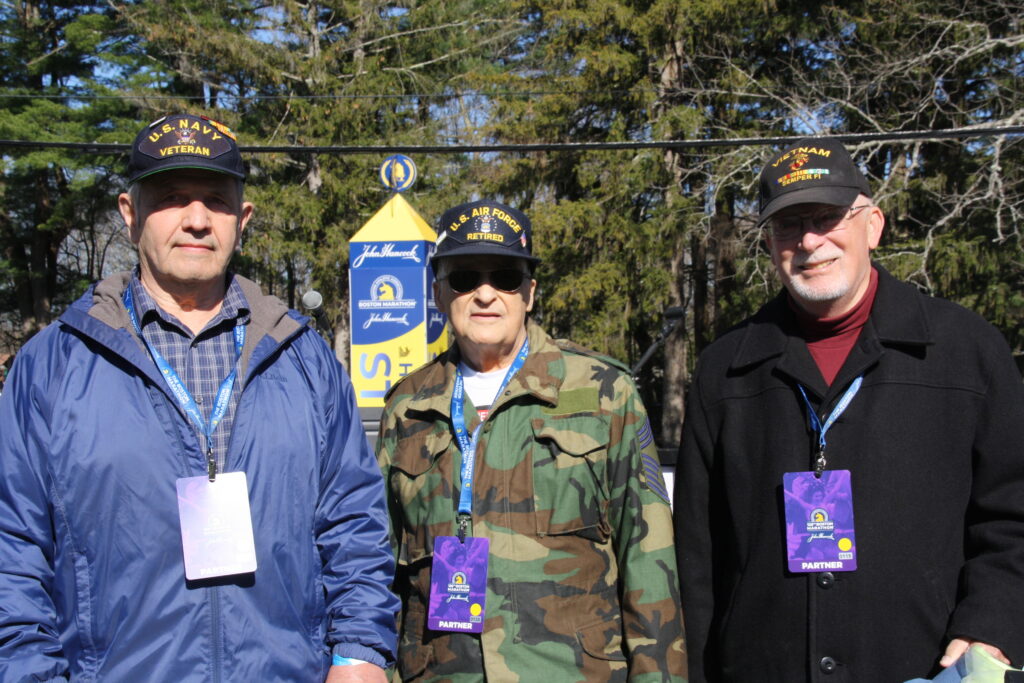 ---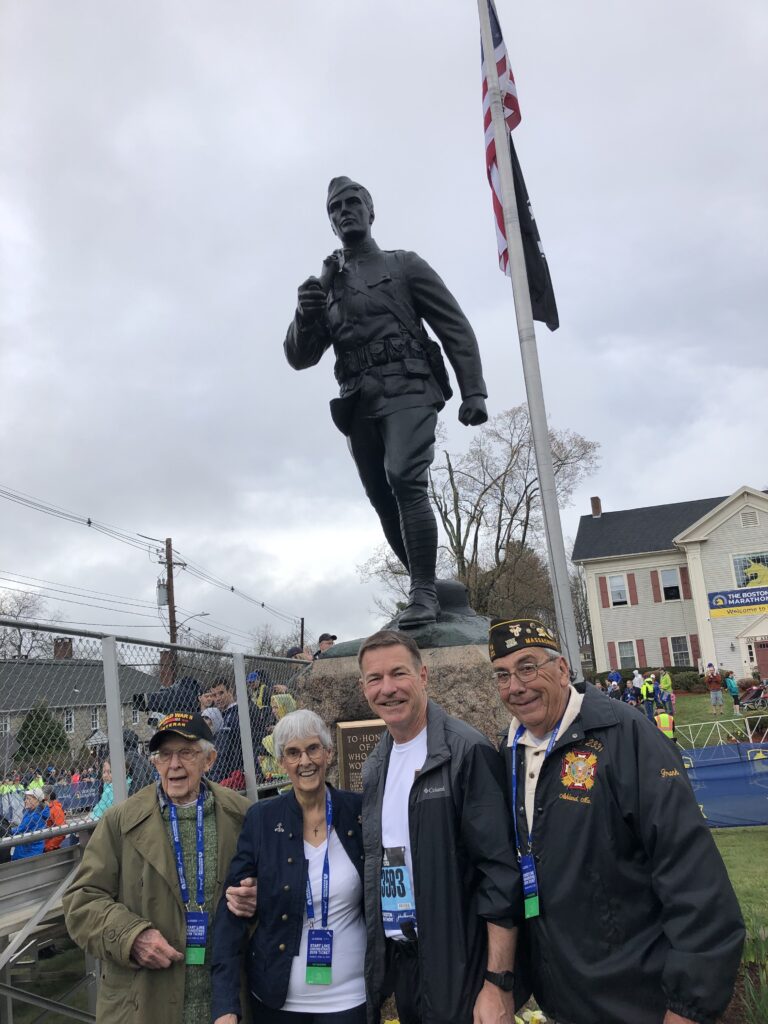 Hopkinton Marathon Committee to Honor Veterans
on Patriots' Day at 123rd Boston Marathon Start
HOPKINTON, MA (April 11, 2019)—In honor of Patriots' Day, the Hopkinton Marathon Committee (HMC) honors local veterans at the start of the Boston Marathon each year. Patriots' Day, an annual civic holiday, commemorates the Battles of Lexington and Concord, the first battles of the American Revolutionary War. Each year, since its start in 1897, the Boston Marathon has taken part of Patriots' Day. This year's honored patriots at the start of the Boston Marathon will be Russell Phipps, Sr., Betty Branagan, and Frank Torento, all of Hopkinton.
"The Hopkinton Marathon Committee has honored our local veterans as a way of recognizing and acknowledging those who served our nation and the sacrifices they made to protect the freedoms we enjoy today. Every American citizen owes a great debt to our veterans," said HMC chairperson, Dorothy Ferriter-Wallace. "The program began as a way to remember and honor those who fought and served our country. Each year we remind our local veterans that we are proud of their service and pay tribute to all veterans on Patriots' Day. When the veterans stand on the starters' platform as they are introduced and hear the National Anthem it is heartwarming to see the pride in their eyes as they reminisce about their years in the service."
*Phipps, 97, has lived in Hopkinton for nearly 70 years. The Framingham native served in what was first called the U.S. Army Air Corps, then changed to the Army Air Force, then the U.S. Air Force from 1942-46. He was sent to various locations for training and retained in Colorado as an instructor, and was later sent on a one month journey via solo Liberty ship to the Mariana Islands in the North Pacific, where he worked on airplanes and equipment, including B17s and later B29s. He said, "I'm no hero. I was one of the lucky ones" and was honored by the HMC recognition. He thinks often of his friends, including his brother-in-law, who didn't make it home. "We looked forward to the end of the war," he said. After Truman ended the war, Phipps remembers an often very stormy trip home via ship, then a memorable meeting with his wife, Doris, and their 1-year-old son, Russell, Jr, at 11pm one cold February night. They drove their Model A Ford roadster home. He and Doris, now passed, later had a daughter, Marcia, and were married 71 years.
* Framingham native Betty Branagan served in the U.S. Navy for four years, earning Second Class. She served in Memphis, then in Hawaii, as a storekeeper from 1951-55. She said, "We made sure the troops had what they needed." She met her husband, also a U.S. Navy storekeeper, while serving. They were working in Pearl Harbor while the monument to the Arizona was being built. After their discharge, the couple moved to Washington where she worked as a soil testing secretary in the Agronomy Department at Washington State College, helping to put her husband through college. Betty moved to Hopkinton in May of 1982. She has a son who lives in Marlboro, a daughter in Maine, and a stepdaughter in Milford, and five grandchildren.
* Frank Torento moved to Hopkinton from West Roxbury at age 16. He served in the U.S. Army from 1966-68 during the Vietnam War, including during the Tet Offensive. An Army personnel carrier while stateside, his duties changed in Vietnam. He secured the ammo dump and delivered ammo to the troops in the field. At the time of his honorable discharge, he was a Specialist E4. He and an Army buddy from New Hampshire bought a car in Seattle upon their discharge and drove cross country. He later had two daughters and worked for the Town of Hopkinton Highway Department for 14 years. He remains active in town including many veterans-related, including the Ashland VFW Post 2331 and American Legion Post 77. He is also a member of the Elks and Woodville Rod and Gun Club, and was active in Hopkinton Little League, including helping to start the "Lassie League" softball. He was part of a committee to put up the Vietnam Memorial on the Hopkinton Common. He helps make a meal for a large group of veterans in Hopkinton every Veterans Day.
The Hopkinton Marathon Committee was established in 1979 to work in conjunction with the Boston Athletic Association (B.A.A.), the organizers of the Boston Marathon, to ensure that the annual running of the race is an exciting, successful and safe event for all concerned. Committee members contribute their efforts throughout the entire year to the planning, organization, and coordination of multiple facets of the race, working to protect the best interests and welfare of the town, its residents, businesses and visitors.
---
Contact: Jean Cann, Hopkinton Marathon Committee
Phone: 508-435-0328
e-mail:
[email protected]